We now offer a variety of craft beers. One of which is this: Shipyard Monkey Fist IPA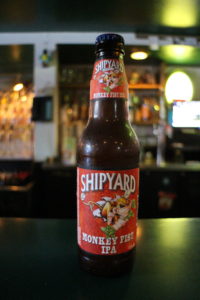 Shipyard Monkey Fist IPA: New Year-round Beer from Shipyard Brewing Company
PORTLAND, MAINE (April 25, 2012) – Shipyard Brewing Company announces the release of a new year-round beer: Shipyard Monkey Fist IPA. This beer will be available nationwide in early May.
Monkey Fist is the genesis of a new generation of IPA. The traditional elements of classic English IPA have been redefined by American craft beer innovation. Monkey Fist is edgy, aggressive, and unique in style. This beer is brilliant copper in color and exploding with Warrior, Glacier and Cascade Hop character but able to maintain a beautiful balance.
"It's easy to load up on hops and create an American-style IPA," noted Bruce Forsley, director of sales. "The trick is to draw out the subtle elements in the hops — the aroma, the citrus characteristics — and still maintain harmony with the malt. Our master brewer Alan Pugsley has done a magical job striking this balance with our unique interpretation."
Read more about their beer here.